God, please make a way for Santa's sleigh…
Merry Christm–I mean, Happy Holidays!
Ah, stupid politicaly correct people….you'de wish you'de of been biblically correct on Judgement Day.
So, its is now officially Christmas eve, and I decide to make another update. My guitar is is, I have an amp, an awesome cord, and My Computer is looking Appley.
I spent most of the day puting together a massive style change on my computer, so much that it doesn't resemble XP at all, except for the taskbar which I kept…but still changed. But several (actually, a ton) downloads later, I have this: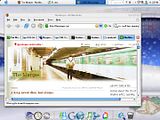 Yes..I like it.
Well my guitar is great, and scince getting it, I have recieved an Amp and a cord….which is the best cord I've ever used…very low capitance. I've written 3 songs (piano anad guitar) scince getting it, I wanna record them. While on the topic of music, I sounded out the song "Silent Night/Away in a Manger + I Celebrate the Day" by Relient K on the piano, and I played and sang it in church. It was great, and I am playing guitar for our Christmas eve service tomorrow.
Anybody else obsessed with
? I am. And I used to hate it….absolutely abhor it. But of course, that was before anyone used it that I knew. I had one about a year ago, and either deleted it or lost it…Now I have with a new one, its nice. I read in an article in Newsweek that MySpace has become the top 3rd most visted site online, even more so than Google. Speaking of MySpace, I plan on buying both of these, ASAP…


Go ahead and Check them out at the MySpace Offical Store
Fun eh? I think I'll use the money I got from selling my newest painting.
Thats right, new painting. Unfortunately I forgot to get a picture of it before I sold it, but it was of a Greco-Roman temple during a sunrise. Special box canvas too, it was nice…it was my first time being commissioned.
Something that is aggravating me….The MPA going after guitar tab and lyric sites. Makes me mad, because this is how I learned guitar, and even though I know music theory, can write my own tabs, and can read sheet music, I still don't want to go out and buy a song book everytime I want to learn a simple song. If this happens, I sure will slow down on guitar, which I hope never happens.
I think that is all I have to say…really.
Hope everyone has a VERY Merry Christmas…I'll post one on Christmas.
Happy Christmas Vol.4 and Trans-Siberian Orchestra are so awesome that it…it..wait…I dunno. They are just incredible. I don't know how I ever survived Christmas without them.

I Celebrate the Day by Relient K
With this Christmas wish is missed
The point I could convey
If only I could find the words to say to let you know
How much you've touched my life because
Here is where you're finding me
In the exact same place as New Years Eve
And from the lack of my persistency
We're less than half as close as I wanna beAnd the first time that you opened your eyes
Did you realize that you would be my Savior
And the first breath that left your lips
Did you know that it would change this world forever
And the first time that you opened your eyes
Did you realize that you would be my Savior
And the first breath that left your lips
Did you know that it would change this world forever
And so this Christmas I'll compare
The things I've felt in prior years
To what this midnight made so clear
That you have come to meet me here To look back
And think that
This baby would one day save me
And the hope that
That you give
That you were born so I might really live
To look back
And think that
This baby would one day save me…
And the first time that you opened your eyes
Did you realize that you would be my Savior
And the first breath that left your lips
Did you know that it would change this world forever
And the first time that you opened your eyes
Did you realize that you would be my Savior
And the first breath that left your lips
Did you know that it would change this world forever
And I
I celebrate the day
That you were born to die
So I could one day
Pray for you to save my life
Pray for you to save my life
Pray for you to save my life